N.C. EastEnders Fan Club - February 3, 2001, Luncheon
Sorrento Restaurant, Morrisville, North Carolina
---
Club members arrive and sign in
---
We get acquainted and start talking...
---
...about EastEnders, TV, movies, and more!
---
The delicious food is served
---
Our guest speaker, Dennis Dowdy, from UNC-TV!
---
All attention is on Dennis, a delightful presenter!
---
Dennis follows his talk with a lively Q&A session
---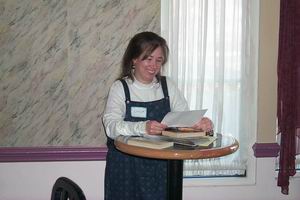 Linda hosts a heated Pub Quiz competition!
---
---