N.C. EastEnders Fan Club - February 3, 2001, Luncheon
Sorrento Restaurant, Morrisville, North Carolina
---
Club members arrive and sign in

The North Carolina EastEnders Fan Club gathered for a lunch meeting on Saturday, February 3, at the Italian restaurant Sorrento. This was our first meeting in over two years, since our last venue, Balentines Cafeteria, closed down. It was a long search for a new place willing to accommodate large parties without a big payment up front. Our meetings always attract between 30-60 attendees from across the state, along with the occasional out-of-state visitors.

The meeting turned out to be a delightful reunion and a chance to meet wonderful new friends! Since our club began in Spring 1997, the electronic mailing list has grown to over 650. Most recipients live in North Carolina, but fans have signed on from around the world after visiting our Web site: www.nceastenders.com. Our president, Dave Horne, maintains the site and keeps our members connected via E-mail and regular mail.

As guests arrived at Sorrento, they signed in and picked up a meeting agenda and a press release from the BBC commemorating the 15-year anniversary of EastEnders. (Our meeting organizers had carefully edited the BBC document to remove any spoilers for U.S. viewers!) The press release contained year-by-year plot highlights, along with historical background, critical commentary, and cast lists. If you would like a copy of this document, it is available on our Web site:
The delicious food is served

Speaking of luxury, we were stunned by the final cost of the meal, since individual entrees ranged in price from $6.50 to $11.50. While the total per person was much higher than anticipated, everyone agreed that the food and service were superb. We have arranged with Sorrento to provide a fixed price buffet for any future meetings we hold there.

During lunch, conversation flowed nonstop, and no one would guess that most of us were meeting one another for the first time! There was plenty of EastEnders talk, but we also managed to discuss other favorite programs (like Mystery and Ballykissangel) and current movies. We compared sightings of EE cast members on other shows and films. Many of us had already seen the movie "Snatch," starring our very own Frank Butcher (Mike Reid)!

While dining, we were serenaded on CD by Martine McCutcheon (Tiffany) and Barbara Windsor (Peggy) with Mike Reid (Frank). The music was delightful, and (surprisingly) even Mike Reid has an engaging singing style! We also had a chance to peruse club memorabilia, including a classic EE board game from the UK, books galore, and the always outstanding Walford Gazette!
Our guest speaker, Dennis Dowdy, from UNC-TV

The highlight of the meeting was a talk by our guest speaker, Dennis Dowdy. Dennis is the Network Traffic Manager at our PBS station, UNC-TV, and is an avid fan of EastEnders, Ballykissangel, and the Britcoms. He gave an informative, highly entertaining talk, with lots of inside scoop. He gave us a preview of upcoming programming, and many of us were thrilled to learn that our station will be broadcasting "Upstairs, Downstairs," a longtime favorite of Anglophiles everywhere!

Dennis followed with a question-and-answer session and invited our feedback on programming. He took notes on the long list of requested shows from our club members--"Red Dwarf," "All Creatures Great and Small," "The Vicar of Dibley," and "Doctor Who," just to name a few. He also informed us of the costs associated with certain shows. For example, the BBC charges just a few thousand dollars for "Are You Being Served?", while "EastEnders" currently costs our station $40,000 a year. Program expenses vary around the country, since the BBC uses a tiered pricing model. The larger the market, the more a program costs. North Carolina is in one of the highest cost tiers.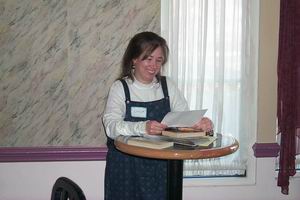 Linda hosts a heated Pub Quiz competition!

It was nearly 3:00 when we finally let Dennis leave; we could have asked him questions all day! We ended the meeting with a heated Pub Quiz competition. To spice things up, the quiz writers included questions about Cockney expressions used on EastEnders.

Our next gathering will be as volunteers at Festival, UNC-TV's yearly fundraising telethon. Our club will be staffing the phones on February 25, and the station plans to run an EastEnders marathon that night--four back-to-back episodes! This is the fourth year that our club has volunteered for Festival, and North Carolina fans always come through with enough contributions to pay for the cost of EastEnders and ensure its renewal. We are looking forward to another record-breaking year!

Check out more photos here.
---
---